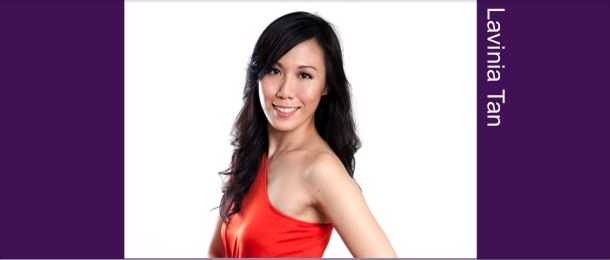 If you are looking to have your event come together smoothly and professionally, Lavinia Tan would be your choice.
With Lavinia as your event Emcee, your Conferences, Product Launches and Gala Dinners will allow your organization to communicate essential messages with ease.
Her lively presentations as well as her affable style make her a much sought after Host as she is always able to bring a fresh feel to her events.
Height : 1.70m
Languages Spoken : English, Mandarin
Languages proficient to Host in : English
Special Interest : Food, Photography, Pole Dancing (in fact all forms of dance), Scuba Diving
Recent Events :
Parenting For The Future Workshop
11th Singapore Maritime Lecture 2017
NTUC May Day Partnership Awards 2016 ( GOH: Minister Chan Chun Sing)
Singapore Maritime Week 2016 Opening Reception
Singapore Maritime Lecture 2016
OECD-Singapore Conference on Higher Education Futures Welcome Dinner & Social Dinner
HDB Awards 2015
HSBC Golf Dinner 2015
Singapore Registry of Ships Forum on Sustainable Shipping 2014
Launch of Tripartite Resource Portal ( GOH: Dr Amy Khor)
Singapore International Energy Week Opening Keynote 2014 ( GOH: Minister S Iswaran)
Maritime Career Fair 2014 Opening Ceremony
Netapp Formula 1 Evening 2014 (13,12,11)
S.R. Nathan's 90th Birthday Dinner ( GOH: President Tony Tan)
Water Leaders Summit 2014
Singapore Water Week Summit 2014 ( GOH: PM Lee Hsien Loong)
The Asian Banker – Leadership & Business Achievement Awards Dinner 2014 ( Malaysia, Kuala Lumpur)
DBS Asian Drum Challenge 2014/13
EU – Asean Aviation Summit 2014 Gala Dinner & Conference (GOH: Minister Lui Tuck Yew)
Changi Airport Terminal 4 Groundbreaking Ceremony (GOH: Minister Lui Tuck Yew)
Starhub Hubalicious 2013 ( 12,11,10)
Launch of Porsche Panamera GII
Official launch of Turkey Fair 2013
Media Masterclass & Trade Dinner  with Sandwich King Jeff Mauro
Launch of Mercedes Benz New E-Class
DBS Marina Regatta Drum Challenge Semi – Final 2013
Changi Airline Awards 2013 ( GOH : Minister Lui Tuck Yew)
NetApp St Baldrick's Event
Opening of Halliburton Technology and Manufacturing Center ( GOH: Minister Teo Chee Hean)
L'Oréal Paris Shine Caresse Media Launch
Opening of Chinese Swimming Club's Heritage Gallery
Sennheiser 10th Anniversary Celebration
Singapore Innovation & Productivity Conference 2012 ( GOH: Minister Lee Yi Shyan)
HDB Design & Construction Awards 2012 ( GOH: Minster Khaw Boon Wan)
Clean & Green Singapore 2013
Grand Opening of One Raffles Place Tower Two ( GOH: DPM Tharmum)
StarHub FooD.I.Y. Heritage Cook-off
Singapore Sustainability Awards 2012 ( GOH: Minster S Iswaran)
Green Carpet Awards 2012 ( GOH: Minster Vivian Balakrishnan)
BCA Awards 2012 ( GOH: President Tony Tan)
Global Trader Awards 2012 ( GOH: Minister Lim Hng Kiang)
American Express & Asian Food Channel Celebrity Chef Event-Chuck Hughes
Connect with us :
Y D      : +65 9487 4464   |   YDchen@artiste-e.com
Wendy : +65 9790 0917   |   Wendyho@artiste-e.com
Event Photos :