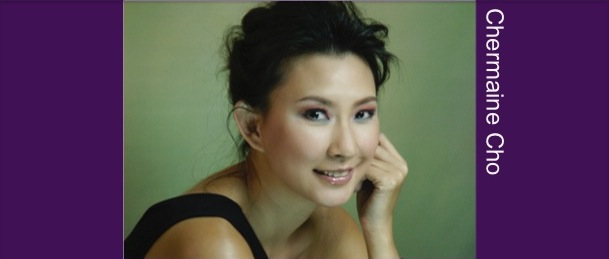 Poised and sophisticated, Chermaine Cho's elegant style, charming personality and quick wit makes her a capable Master of Ceremony.
The first ever, female Mandarin host for Singapore Racing at the Singapore Turf Club. Chermaine Cho is effectively tri-lingual (English, Mandarin and Cantonese) and she has hosted a women's magazine program on TCS 8 and a lifestyle program on "Channel U" in 2007.
She has a whole wealth of experience hosting a variety of prestigious events including the APEC Leaders' "An evening at Esplanade" in which President Obama graced the event in 2009. With her elegant poise and quick wit, she is ready to charm the crowd for a mesmerizing event – a rare gem indeed.
Height : 1.73m
Languages Spoken : English, Mandarin, Cantonese, Japanese ( basic)
Languages proficient to Host in : English, Mandarin, Cantonese, Japanese ( Basic)
Special Interests & Skills : Travel, Foodie
Recent Events :
SGX celebrates Listing of International Cement Group Pte Ltd
BEA 100th Anniversary Celebration
EQUATE Customers' Gala Dinner 2019
Omya Technology Center Singapore Grand Opening
Global Switch Singapore Woodlands Data Centre Building Launch & Evening Cocktail
50th Wedding Anniversary Celebration
37th UOB Painting of the Year ( GOH: Minister Baey Yam Keng)
Global Site Forum 2018 – Huawei
Sands Resorts Macau Showcase 2018/17
Standard Chartered Future Generation Leadership Camp 2018
Hengli Oilchem Official Opening Ceremony
HSBC Asean Connect Welcome Cocktail Reception 2018
REDAS Chinese New Year Luncheon ( GOH: Minister Desmond Lee)
Official Opening of Pioneer Polyclinic ( GOH: Minister Gan Kim Yong)
Grand Opening of MM Galleri
Grand Opening of Influence Chain
Official Launch of Elastos Global Offerings
PIL 50th Golden Jubilee Celebratory Dinner
Certis Cisco Customer Engagement Dinner 2017
Woh Hup 90th Anniversary Celebration ( GOH: President Tony Tan)
On Cheong Jewellery 80th Anniversary Dinner ( GOH: Mr Baey Yam Keng)
Lee Clan 110th Anniversary Gala Dinner ( GOH: Prime Minister Lee Hsien Loong)
Chip Eng Seng Gala Dinner 2016 ( GOH: Minisiter Koh Poh Koon)
Conference Ambassador Programme 10th Anniversary Gala Dinner
SMTF 10th Anniversary ( GOH: Minister Lim Swee Say)
Asia Boating Awards 2016
Singapore 1000 Gala Dinner 2016
AkzoNobel Gala Evening 2016
Topping Out Ceremony of Tanjong Pagar Centre ( GOH: Minister Lawrence Wong)
Lexus Cup 2015 Gala Night ( Bali, Indonesia)
Opening of the Singapore Construction Productivity Week 2015
World Civil Aviation Chief Executives Forum ( GOH: Minister Josephine Teo)
Official Opening of Solvay Novecare Alkoxylation Facility ( GOH: Minister S Iswaran)
A*Star Talent Search & Spore Science Engineering Fair Awards Presentation Ceremony 2015,14, 13, 12, 11,10
World Rubber Week 2015 Opening Ceremony
Nirvana Appreciation & Awards Dinner 2015
Toyo Tires Gala Dinner & Seminar 2015
DHL Express South Asia Hub Press Conference
SGX Annual Award Dinner 2015
CIMB Bank Client Appreciation Dinner 2015
188Bet 10th Anniversary Gala Dinner ( Manila, Philippines)
Tian Fu Association 15th Anniversary Dinner
Leeden 5oth Anniversary Gala Dinner
Sony SEAsia Alpha7 II Regional Media & Dealers' Conference
RAS Epicurean Star Award Gala Dinner 2014 ( GOH: Mr Lim Swee Say)
5th Samsung Partners' Day ( GOH: SMS Josephine Teo)
HSBC Dinner & Dance 2014
Great Singapore Food Gifts Awards & Gala Dinner 2014
Vacheron Constantin Grand Opening
Tiffany & Co. Regional Gala Dinner
National Healthy Lifestyle Campaign 2014 Launch Ceremony
Singapore Teochew Poit Ip Huay Kuan's 85th Anniversary Celebrations (co-host: Danny Yeo) (GOH: Minister Heng Swee Keat)
Singapore Chinese Cultural Centre Ground Breaking Ceremony ( GOH: Prime Minister Lee Hsien Loong)
Aramco Asia Singapore Inauguration Reception
President's Environmental Awards 2014 ( GOH: President Tony Tan)
Nefful Appreciation Awards Ceremony 2014
Launch of Rolls-Royce Phantom Pinnacle Travel Collection
Chevron Oronite's Singapore Expansion Celebration ( GOH: Minister Lim Hng Kiang)
Kim Hock Opening Ceremony ( GOH: DPM Tharman)
Bentley Appreciation Dinner (co-host: Danny Yeo)
Eco Action Day Awards Ceremony
MediaTek Singapore 10th Anniversary & Professorship Launch
HP DSCOOP Asia Conference/Gala 2014, 13, 12
HP Asia Pacific/ Japan Digital Print Excellence Awards ( Indonesia, Bali)
Official Opening of PacificLight Power Plant @ Jurong Island
Official Launch of Shell Aviation Refuelling Operations at Seletar
Jurong Health Public Healthcare Service Award & Long Service Award Ceremony 2014
Tiger Balm International Marketing Conference 2014
Opening of National Design Center & Launch of Spore Design Week & Singapural ( GOH: Deputy Prime Minister Tharman)
Topping Out Ceremony for FairPrice Hub ( GOH: Minister Lim Swee Say)
Official Opening of SLNG Terminal ( GOH: PM Lee Hsien Loong)
Official Launch of SMF Business Expansion Programme ( GOH: Minister Lee Yi Shyan)
SingTel Chinese New Year Dinner 2014
Standard Chartered Lunar New Year Dinner 2014
Singapore 1000 & Singapore SME 1000 Awards 2013,12,11, 10
Grand Opening & Gala Dinner of Asahi Kasei Synthetic Rubber Singapore ( GOH: Minister Lee Yi Shyan)
HP DSCOOP Asia Conference/Gala (China, Beijing)
Opening of Carnival Corporation's Asia office & Costa Atlantica Maiden Call (GOH: Minister S Iswaran )
Tourism Industry Conference 2013 ( GOH: Minister S Iswaran )
Connect with us :
Y D      : +65 9487 4464   |   YDchen@artiste-e.com    
Wendy : +65 9790 0917   |   Wendyho@artiste-e.com
Event Photos :