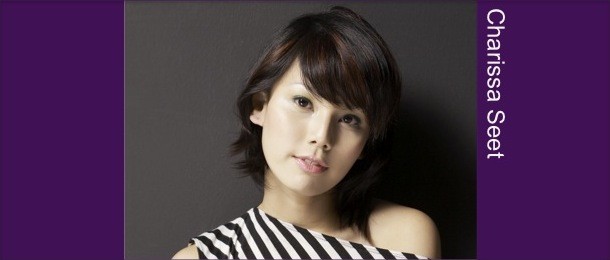 Bubbly & effervescent Charissa Seet always brings a smile to everyone's face at an event.
Today, Charissa is one of the most sought-after emcees in Singapore, bagging major clients in the field of fashion, lifestyle, education, travel, electronics as well as government agencies.
Clients who work with Charissa, appreciate her composure, spontaneity, easy charisma and natural flair to build quick rapport with a diverse audience. She is often recognized during events for her warm trademark voice and energetic persona.
Being effectively bilingual and a foodie at heart made her the ideal food reviewer, alongside Capital 95.8FM radio veteran, Seng Yong for his weekly food programme.
Whether its an intimate dinner for 50 guests or more than 2000 attendees like the National Day Dinner 2010, Charissa tackles each event with enthusiasm.
Height : 1.56m
Languages Spoken : English, Mandarin
Languages proficient to Host in : English, Mandarin
Special Skills & Interests : Cooking, Bikram Hot Yoga, Karaoke Queen! , Organization Junkie
Recent Events :
Asia Recruitment Awards 2019
Opening of the Singapore Butyl and Resins Plants by ExxonMobil ( GOH: Minister Chan Chun Sing)
Marketing PR Awards 2019
Singapore Chinese Chamber of Commerce Career Women's Group 25th Anniversary ( GOH: Minister Grace Fu)
BCA Awards Ceremony & Dinner 2018/16 ( GOH: Minister Desmond Lee)
National Cancer Centre Singapore Capital Campaign Launch
Global Trader Dialogue 2018
Singapore Maritime Week 2018 – The Future of Shipping
AIA Career Seminar
SG100 Anniversary Dinner ( GOH: Minister Chan Chun Sing)
Fox Factor Model Search 2018
ANZ Lunar New Year Dinner 2018
Singapore Fintech Festival – AMTD
Opening Ceremony of Green Urbanscape Asia 2017
Municipal Services Awards 2017
Official Launch of SingPost General Post Office
HTL Asia Pacific Distributors' Meeting 2017
Singapore Management Festival 2017
Ministry of Transport Appreciation Dinner
Crib Ball 2017
Phillip Morris Appreciation Gala Dinner
World Intellectual Property Day ( GOH: Minister Indranee Rajah)
ASEAN- India Business Forum ( GOH: Minister S Iswaran)
Sembcorp's Launch of their Global Asset Management System
Marketing's PR Awards 2017
The Loyalty & Engagement Awards 2017
Patron of Heritage Awards
Latin Asia Business Forum 2017 (GOH: Minister S Iswaran)
iLight Marina Bay Opening Ceremony 2017, 16,14
Property Launch of 6 Derbyshire
Community Chest "Charity in the Park"
ANZ Economic Outlook Series & CNY Celebrations 2017
L'oreal Singapore for Women in Science- National Fellowships
Russia-Singapore Business Forum 2016 ( First DPM Russia Shuvalov + Singapore DPM Shanmugaratnam)
Korean D.O.T.S 2016
Korea Tourism Organisation: Ladies K- Treats
Charity Transparency & Governance Awards 2016 ( GOH : Minister Grace Fu)
Personal Data Protection Seminar 2016/15/14 ( GOH: Minister Yaacob Ibrahim)
Inaugural Conference on Asian Luxury Branding Gala Dinner
Association of Small & Medium Enterprise (ASME) 30th Anniversary Dinner
Singapore Fashion Week and TafTc "The Art of Shoes" Competition
Launch of Singpost Regional eCommerce Logistics Hub
IDA "New Ways of Work" Conference
Asean Cisco Connect and IoT Forum 2016 ( Breakout sessions)
Clozette Style 5th Anniversary Party 2016
Starhub Golf Open Dinner 2016
Singapore Power Group Safety & Productivity Summit 2016
2016 Pest Summit Gala Dinner
IE Singapore iAdvisory Flagship Seminar "Going Global with Innovation"
Launch of Laneige BB Cushion Evolution
Marketing Interactive "The Loyalty & Engagement Awards" 2016
The Sunday Times "Baby Ready" Seminar 2016
SMU Luxury Research Gala Dinner Singapore
Maritme Week Appreciation Reception
Launch of MTM New Custom Blended Eye Masks
Launch of National Workplace Safety & Health Campaign 2015 ( GOH: Minister Tan Chuan-Jin)
Climate Change Prize Award Ceremony 2015 ( GOH: DPM Teo Chee Hean)
A*Star SME Day 2015 ( GOH: Minister S iswaran)
Eastern Health Alliance Caring Awards 2014 ( GOH: Minister Tan Chuan-Jin)
IBM Leadership Forum 2014
HP Supplies Leadership Summit 2014 ( Hanoi, Vietnam)
MOM Awards 2014 ( GOH: Acting Minister Tan Chuan-Jin)
Grand Opening of Kulicke & Soffa HQ Spore ( GOH: Minister S Iswaran)
China Telecom Chinese New Year Dinner 2014/13/ 12/11
Connect with us :
Y D      : +65 9487 4464   |   YDchen@artiste-e.com
Wendy : +65 9790 0917   |   Wendyho@artiste-e.com
Recent Photos :