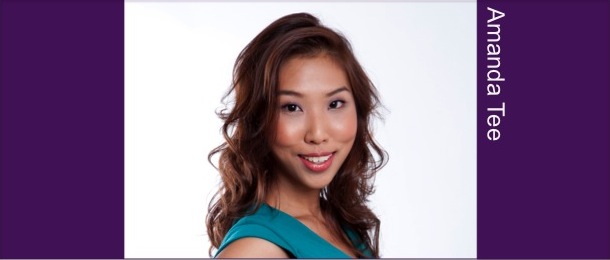 Amanda Tee is a graduate from the Acting course at LASALLE College of the Arts and has been involved in many productions since graduating and enjoys working on both TV and Film productions.
Even though Amanda is a relative new commer, she has hosted two sports programmes; 'HOW 2' and 'Sportszine' for both Starhub and Mio TV.
Trained by veteran Host Danny Yeo, Amanda's lively and professional hosting style is a breath of fresh air.
Height : 1.68m
Languages Spoken : English (excellent), Mandarin ( proficient)
Languages proficient to Host in : English
Special Interests & Skills :  Accents, Dance, Piano, Electric Guitar, Muay Thai, Diving, Snowboarding, Aikido, Netball
Recent Events:
10th Pacific Structural Steel Conference 2013
Launch of HDB Community Week ( GOH: Minister Khaw Boon Wan)
Celebrating the announcement of the Princess Cruises' First Homeport
NCCS Opening & Awards Ceremony 2013
Whirlpool Free Standing Launch
Grand Opening of the first Smoothie King store in Singapore
Clean and Green Singapore 2013 Tour
Schmidt Marketing Flagship Store 1st Anniversary
Gardens by the Bay National Day Celebration 2012
Adrenaline TV Launch
Official Launch of Xtreme Skatepark at East Coast (GOH : PM Lee Hsien Loong)
Wedding at Goodwood Park Hotel
Connect with us :
Y D      : +65 9487 4464   |   YDchen@artiste-e.com
Wendy : +65 9790 0917   |   Wendyho@artiste-e.com
Event Photos :