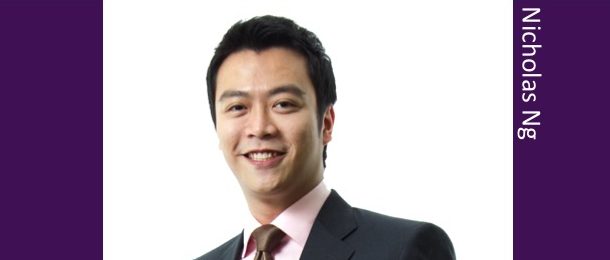 Nicholas Ng has been blessed with a career in hosting spanning 17 years and counting.
First discovered in Singapore Polytechnic, Nicholas Ng has gone on to host a variety of global and local events with numerous well-known brands, companies and government organizations.
Professional, versatile & adding a touch of class, Nicholas Ng is a host who is able to articulate your brand well and establish a comfortable space for your audience at your event.
Height : 1.75m

Languages Spoken: English, Mandarin

Languages proficient to Host in: English
Special Interests: Food, Travel
Recent Events:
Singapore Motorshow 2019/18/17/16 – Cycle & Carriage
African Singapore Business Forum 2018
Fuel your Way to Korea
Mitsubishi Eclipse Cross Owners' Night
Citroen DS Experience
Questra World Leadership Conference 2017
Singapore Bike Show 2017 – Motul
iAdvisory Forum 2017: Going Global with Digital Conference
The Prelude – Korea MICE Reception 2017
Citroen C4 Picasso Showcase
Singapore Motorshow for Cycle & Carriage 2017/16
General Motors Singapore Annual Dinner 2016
Hi-Life Luncheon 2016
ASEAN Cisco Connect & IoT Forum 2016
Singapore Seoul Showcase Luncheon
Kaleidoscope Korea 2014
Green Night with Korea 2014
NVIDIA GPU Technology Conference 2014
Starry Starry Seoul
BNP Paribas Chinese New Year Dinner 2014
Singapore Innovation & Productivity Conference 2013
BNP Paribas Cocktail Reception
Trend Micro Cloudsec 2013
VMware vForum 2012
Vmware Partner Exchange on Tour 2012
Mission Foods World Netball Championship 2011 Candle Lighting Ceremony & Gala Dinner
VMware vForum 2011
Singtel ETTV YoYo Road Show 2011
Marigold HL World Milk Day 2011
H-Two-O Ultimate Move 2011 Singing Competition
Havaianas Trial Activity 2011
VMware Partner Exchange on Tour 2011
Fuji Xerox Golf Tournament 2011
BMW Business Forum with BT 2011
Ascendas & DNV Groundbreaking Ceremony 2011
BMW 7PP+ Business Forum with BT 2010
Canon Racing Through Time Photography Seminar 2010
Fuji Xerox Swing for Kids Golf Charity Tournament 2010
Havaianas 'Bring More Colour to Bugis' Store Opening 2010
Nicorette Quitters Run 2010
Soo Kee Jewellery 'Glam Couple' 2010
Starhub Future Forward 2010
The Hourglass Annual Dinner & Dance 2010
UOB Lit Branch Opening 2010
Connect with us :
Y D      : +65 9487 4464   |   YDchen@artiste-e.com
Wendy : +65 9790 0917   |   Wendyho@artiste-e.com
Event Photos :